Cabine de trafic de salle de billets de sentinelle mobile de petite taille de maison de garde populaire
Description du produit
Cabine de trafic de salle de billets de sentinelle mobile de petite taille de maison de garde populaire
| | |
| --- | --- |
| Product Name | Sentry booth |
| Insulation | EPS,PU,Glass wool,Rock wool |
| Material | Sandwich panel+roofing+bottom frame+door+window |
| Size | Customized |
| Wall/roof panel | 50/75/100/125/150mm sandwich panel |
| Life Span | 8-10 years |
| Use | Safety Booth,Ticket Booth |
| Minimum Order | 5 Unit |
| Package | In bulk |
| Payment | L/C, T/T,Weatern Union |
| Lead Time | Within 20days after receiving the deposit. |
| Supply Ability(/Month) | 500~800 Units |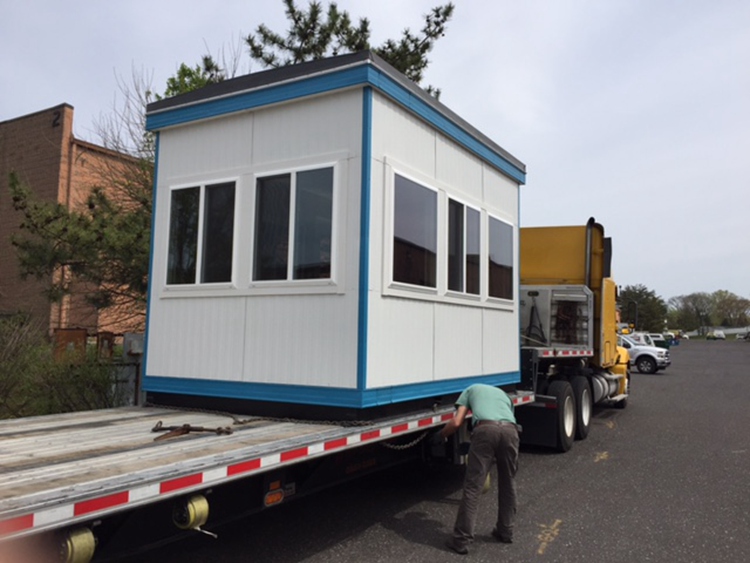 A sentry booth is a small shelter with or without an open front in which a guards duty may need to stand to be sheltered from the weather.
An armored booth, armored guardhouse, or security booth is a small structure furnished with a chair, and security cameras.
The guards often sit inside of the structure, which has strong windows, doors, and walls. Such booths are generally found at embassies, important government buildings and structures, military installations, and high end hotels in some countries.
Sentry booth is also belong to prefab house in small size
1• Cost effective and quick to build
2• Strong and design-flexible
3• Durable and safe
4• Easy to assemble and transportation
5• Environmentally Friendly
Security Box / Sentry house / Guard house / Kiosks /Ticket booth / Security booth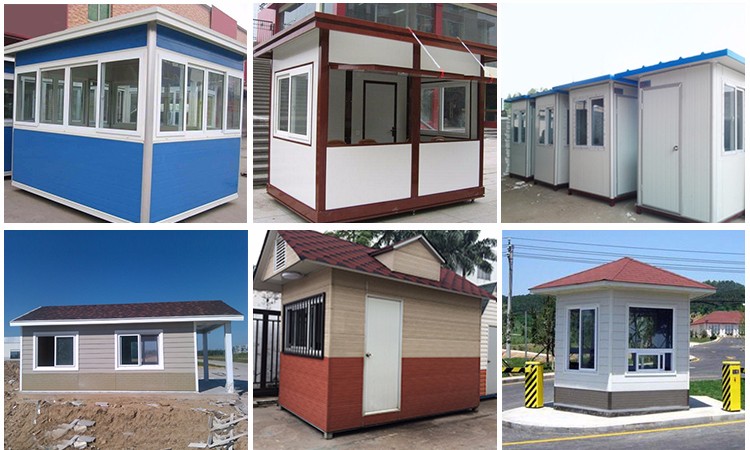 For more information, please contact us

>
| | |
| --- | --- |
| Frame | Painted light steel structure frame |
| Roof | 50/75/100 mm sandwich panels( EPS, PU,Glass wool, Rock wool insulated) |
| Wall | 50/75/100 mm sandwich panels( EPS, PU,Glass wool, Rock wool insulated) |
| Door | Sandwich panel door/PVC door/Metal door |
| Window | Aluminum / PVC silding window with single glass |
| Cladding | Cement board cladding,PVC Claddding,PU metal Cladding |
| Roof tile | Asphalt shingles,color steel glazed tile,metal color stone.resin tile |
| Base board | 15/18/20mm plywool or cement board |
| Roof tile | 0.326/0.376/0.426/0.476/0.5mm (colors can be chosen) |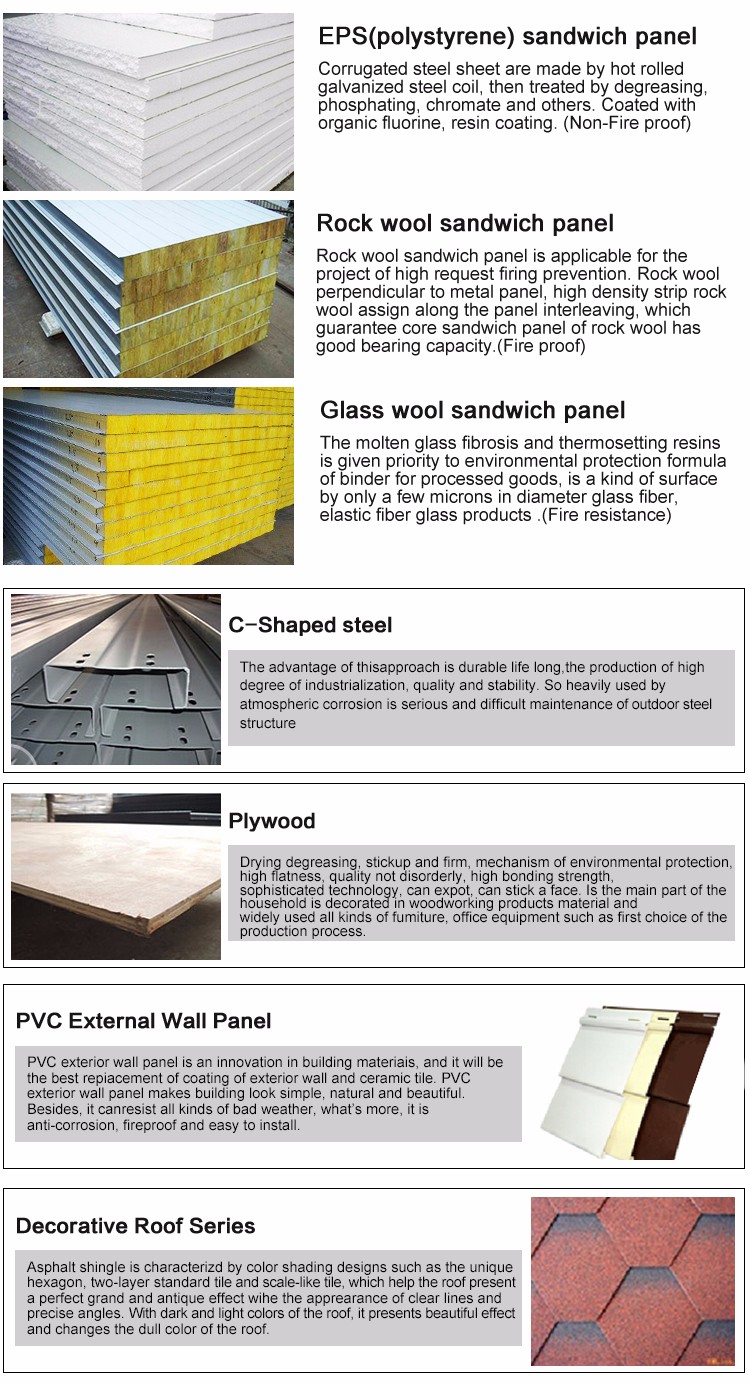 For more information, please contact us

>
Installation tool
Electric hand drill,angle grinder(cutting disc exclusive),spanner,paper cutter,wire-cutter,impact drill,flexible rule,hand riveter,Glue gun,hammer,ceramic tile cutting machine,Cutting wood machine etc...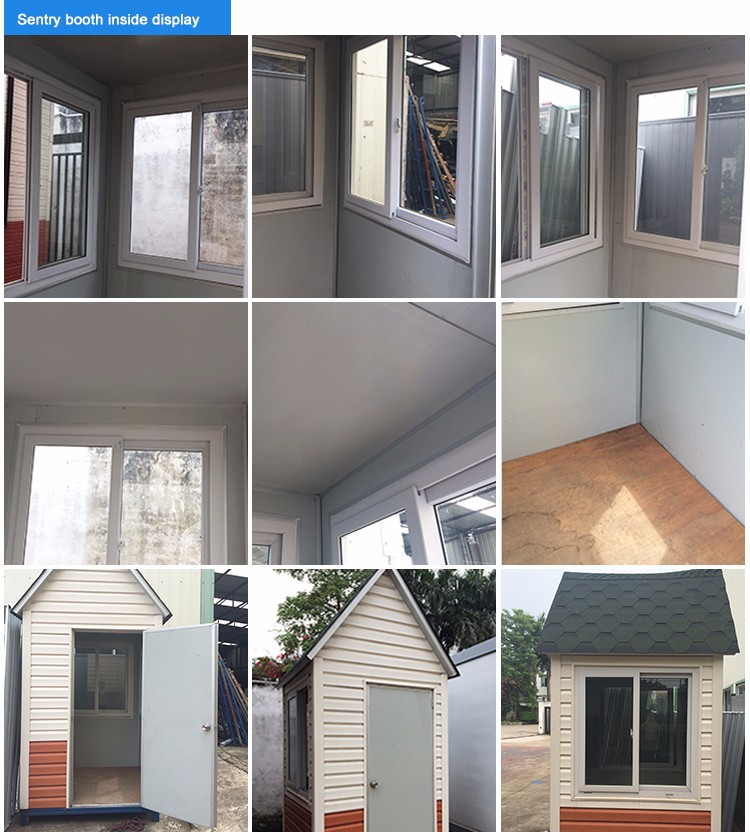 For more information, please contact us

>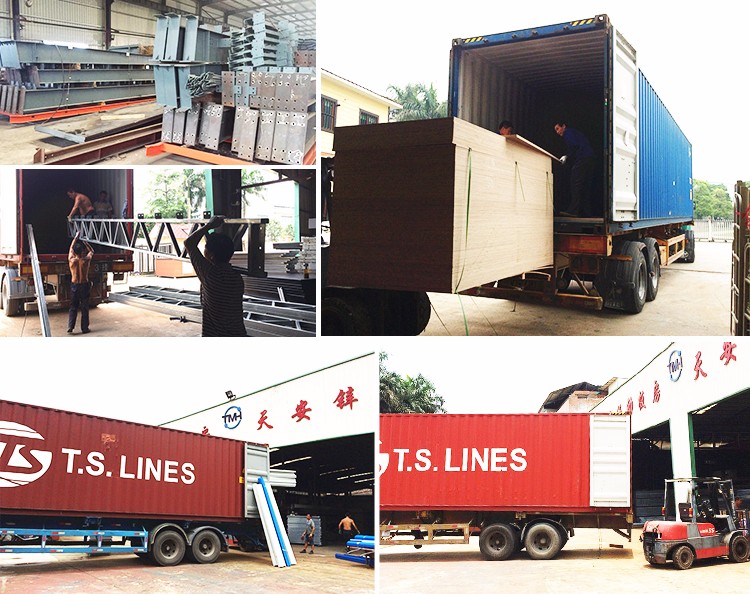 For more information, please contact us

>
TianPuAn Building Materials Technology Co.,Ltd., also known as TianPuAn Prefab house Co. Ltd. It was founded in 2005. Since then, we have been a professional manufacturer of steel structure building,container house,prefabricated house,light steel villa, fence,sandwich panel and profiled steel with ISO9001 certification.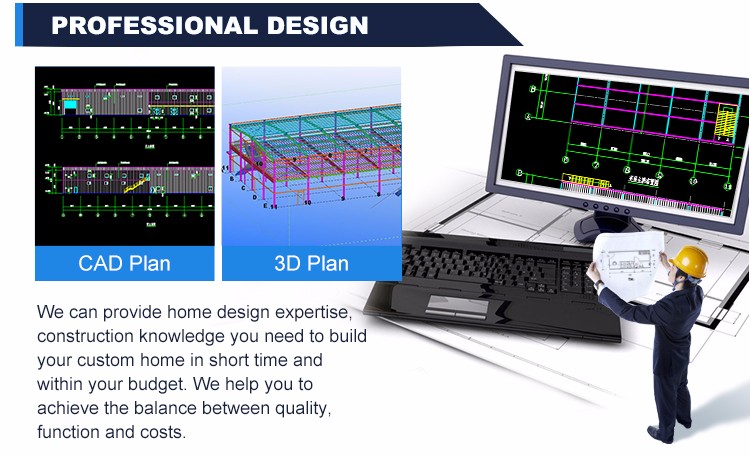 For more information, please contact us

>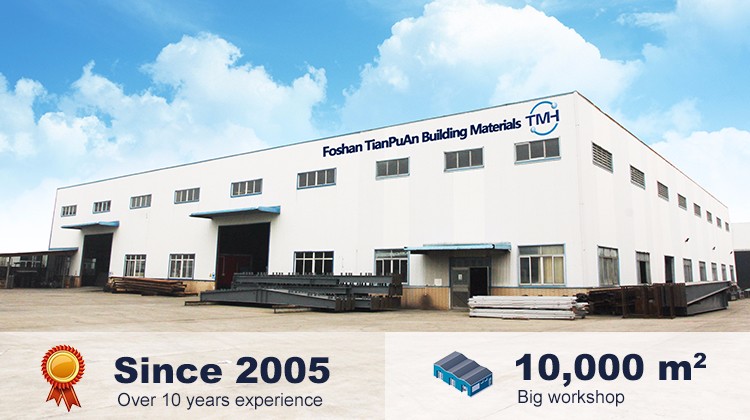 We focus on producing custom-made economic and environmentally friendly prefab house.With the Specialized technology,professional design team and high-quality construction team we undertaken hundreds of prefab buildings production and installation,got the consistent high praise of the clients.Our capacity is about 30000 to 50000 square meters per month..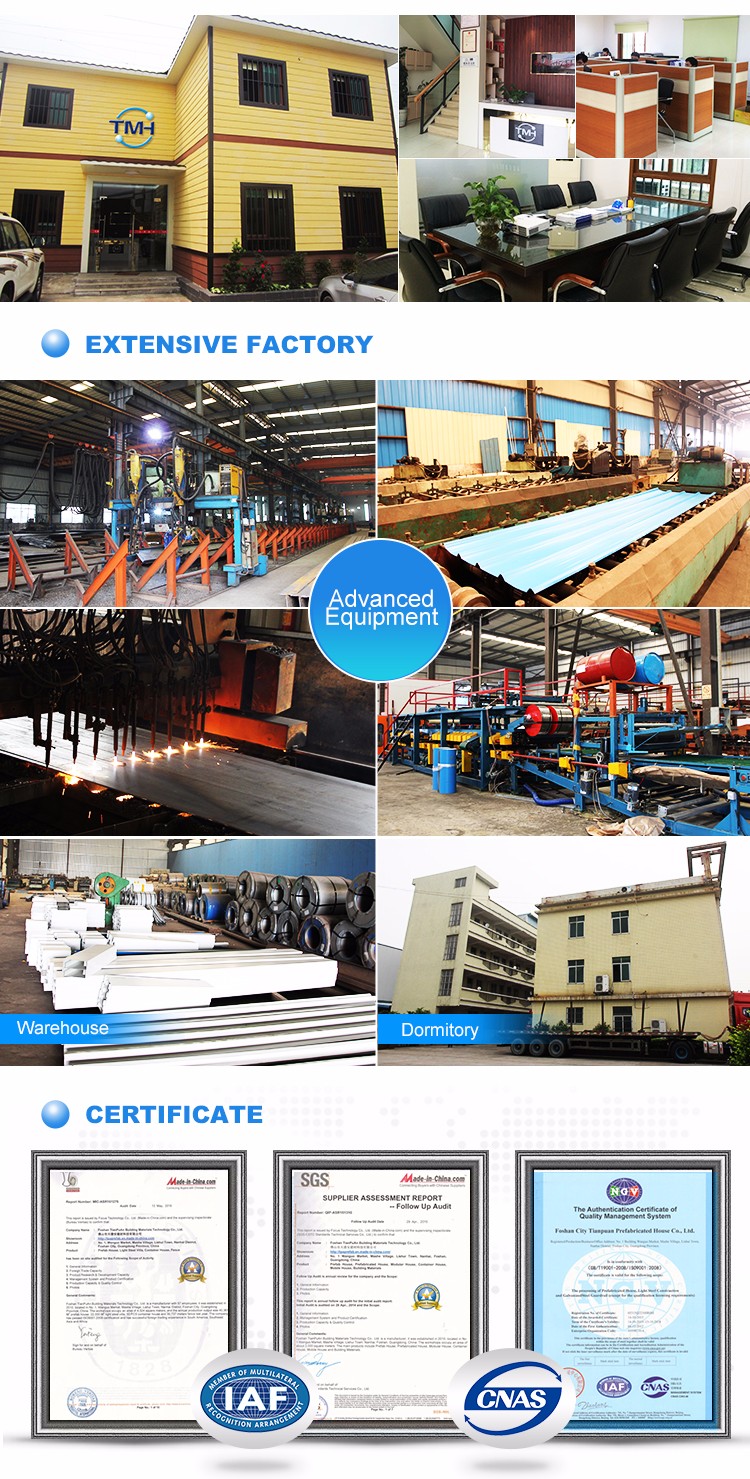 We have been certified by ISO: 9001: 2008. Up to now, TianPuAn has completed hundreds of projects Domestic and around the world.
For more information, please contact us

>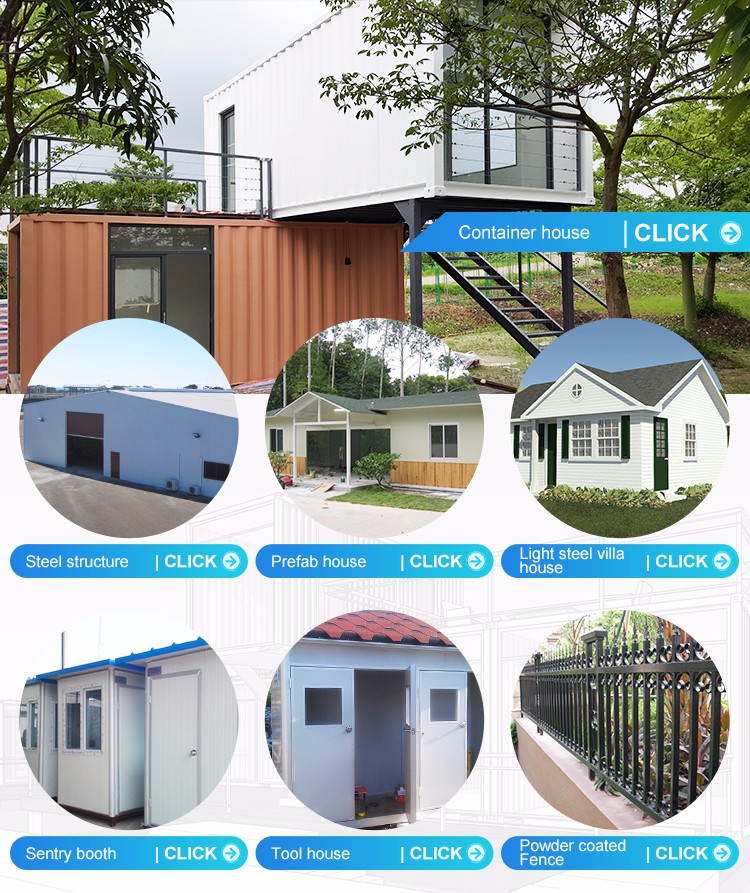 For more products, please click

>
1.What is prefab house?
A prefab house is shortened name for a prefabricated house, which is a home/house that has components manufactured in an off-site industrial facility. They are sometimes referred to as factory-made or modular houses, although there are some differences.
2.What Are The Advantages Of Your Prefab House?
Light weight,wind resistance,anti-seismic,fire proof,sound proof,environmentally friendly, Quicker to build, Cost effective etc.
3.What is your product range?
We specialized in design and manufacturing prefab house,container house,light steel structure villa house,steel structure,guard house and fence as well.
4.What are your house made of?
Our Prefab house is made of light steel structure and cement board or sandwich panels for the walls and roof.The wall/roof panel can be polystyrene, polyurethane, rock wool, fiber glass sandwich panels.The structure is connected by bolts and the walls are fixed with rivets.
5.Prefab house Installation time?
It depends on the house specification and the house building materials.Usually,sandwich panel house type 4 skilled workers can finish80-100/sqm in 8 hours.Villa house type 4 skilled workers can finish 80-100/sqm in 15-20 days.
6.What Should Be Prepare For The Site Before Start To Built?
At the very least, you will need concrete piers for the columns to sit upon. Most people pour a full foundation, but if you are using the building on a farm or ranch and plan to have dirt, gravel, or sawdust floors, a pier system may be preferable. In these situations, a popular option is to combine piers with a concrete footing around the perimeter of the building.
Foshan TianPuAn Building Materials Technology Co.,Ltd.
Foshan TianPuAn Building Materials Technology Co., Ltd.est une société leader spécialisée dans la conception, la fabrication, la commercialisation et la construction de la maison préfabriquée, de la maison en conteneur, de la maison de villa en acier léger, de la structure en acier et de certaines clôtures connexes.
Créé en 2008, couvrait une superficie de plus de 200, 00, zone de construction de 15 000 mètres carrés. Grâce au groupe de direction qui se compose d'experts et de professionnels de l'industrie de près de 100 employés, l'entreprise a continué à augmenter ses ventes régulièrement et rapidement pendant ces quelques années.
Nous avons été certifiés ISO: 9001: 2008. Jusqu'à présent, TianPuAn a réalisé des centaines de projets en Suisse et dans le monde.
Nous pouvons fournir l'expertise en conception de maison, les connaissances en construction dont vous avez besoin pour construire votre maison personnalisée en peu de temps et dans les limites de votre budget. Nous vous aidons à atteindre l'équilibre entre qualité, fonctionnalité et coûts. La vente positive et les services après-vente sont toujours bien évalués.
La qualité est le fondement du succès et l'innovation est la source du développement. Notre processus unique est consacré à la conception d'un lieu magnifique, sûr et spacieux pour vous. Nous apportons notre enthousiasme et nous nous efforçons de le faire!
Nom de la compagnie: Foshan TianPuAn Building Materials Technology Co.,Ltd.
représentant: Cai Ling Yang
Produit / Service: Entrepôts de structure métallique , Bâtiments à structure métallique , Maisons préfabriquées , Maisons de villa en acier léger , Maisons de conteneurs , Clôtures en structure métallique
Capital: 5000,000RMB
Année d'Etablissement: 2010
Volume total annuel des ventes (en millions de US $): US$1 Million - US$2.5 Million
Pourcentage des exportations: 61% - 70%
Total volume d'achat annuel (en millions de US $): Below US$1 Million
Nombre de Lignes de Production: 7
NombrNombre du Personnel de R&e du Personnel de R&D: 5 -10 People
Nombre du Personnel de QC: 5 -10 People
Service d'OEM fourni: yes
Superficie de l'Usine (mètre carré): 10,000-30,000 square meters
Adresse de l'Usine: Lihe Road, Lishui Town, Nanhai District,Foshan
Personne À Contacter: Ms. Kary Huang
Numéro De Téléphone: 86-757-85653718